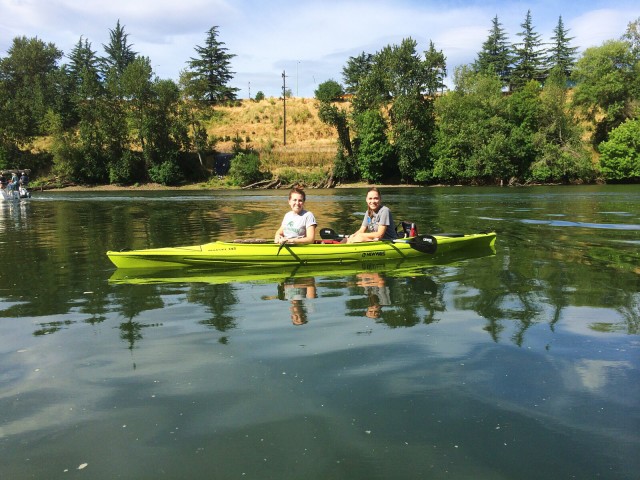 "Too bad no one on that dock has a phone out so they could video us trying to get out.  I bet it would go viral when we fall in the water trying to get out of this kayak."  These were my words as we paddled up to wooden dock several yards away. I should have kept my mouth shut.
Last Sunday was a gorgeous day.  After church my dad spontaneously decided we should rent kayaks and head out to the river.  It was a grand idea and off we went.  My friend Malia came with us and we laughed a lot trying to figure out how to be a good team and row in a straight line.  Our course pretty much looked like a bunch of Z's strung together for the first hour.  Towards the end of the time though we had gotten in sync and were enjoying the outdoors.
I was grateful as we rowed up to the dock with all the people sun bathing and hanging out that we had finally figured out a good rhythm.  Still, we had to actually get out of the tippy kayak and on to the dock without splashing awkwardly overboard.  Thankfully we manged to gracefully exit the kayak.  Mind you we had about 15 people watching us.  We pulled the kayak up onto the dock and here is where it happened.  Reading this next part in slow motion will make it better.
I grabbed the front of the kayak and stared walking up the dock.  Two steps past the large group of people I felt for a split second the most interesting sensation of…flying.  Whoosh! Wait for it.  My feet were literally straight out in front of me and then with a grand splat I landed on my rear.  And because I'm like an old person I could have cared less what all the people around me thought and just wanted to make sure I had no broken bones.  It was hilarious.  I can only imagine what it looked like when I went air born for that split half second.  I wish I could have seen my stunned face.  After getting the wind back in my lungs I tore off my flip flops and dropped them in the kayak, picked up the end I had been carrying, and walked off.
Sometimes life is like that.  We're walking along doing our thing and then bam! we are on our derrieres and not quite sure what happened.  So the next time life trips you up I hope you take a deep breath, laugh it off, get back up, and keep walking.  Also learn from your mistakes: don't wear flip flops on a wet wood dock.  😉
(Picture taken by my dad who was the only one brave enough to take his phone out on the water…and smart enough to put it in a plastic bag)