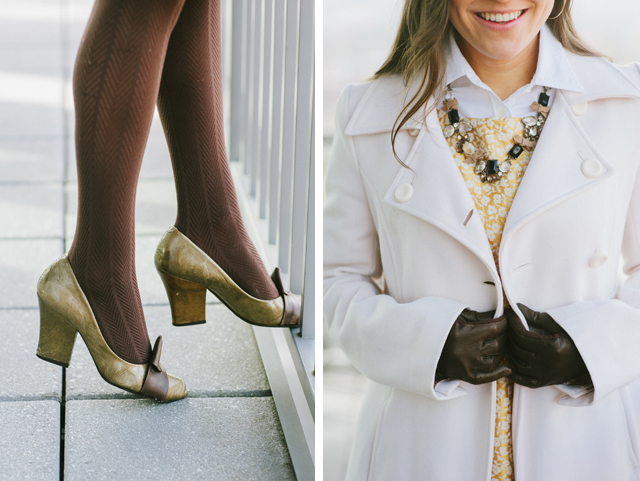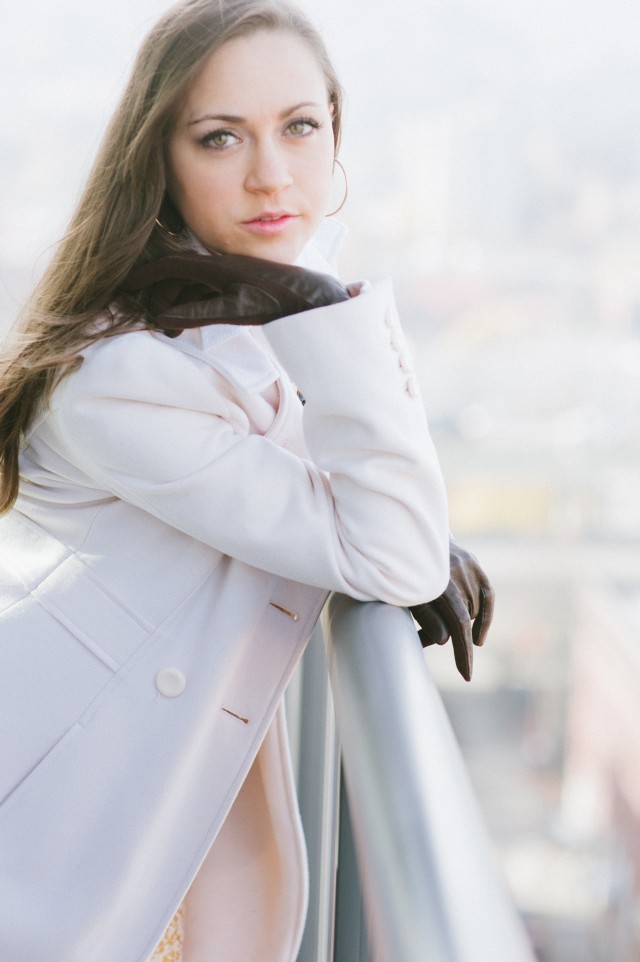 Every day is an adventure.  Some days just happen to have a little more adventure than others.  Take this past Saturday for example.  All week I had been looking forward to hunting for our Christmas tree with my dad.  When he came home to pick me up I was more like the Grinch trying to figure out online shipping and gifting (I love giving gifts! I do! but really online shopping can be crazy) and only had a moment to stuff my feet into boots, bunching pants and all, grab my cherry red coat and squash my beret from Paris on my head to top it all off.  As soon as the biting air pierced my lungs at a cool 23 degrees I felt like a true adventurer…the five year old types.  Scrambling up into the high seat of my dad's work van we drove out to the country to this small tree far in the middle of nowhere.  We enjoyed seeing car after car pass us by with trees bundled and perched topside.  Up before us rose the mountain cloaked in a true powder pink sunset rosiness.  Five minutes before we reached our destination I looked over at dad and casually mentioned that I sure hoped this place was opened since we'd driven a good 45 minutes to get there.  Sadly when we drove up it was closed.  Hmm.  The adventure had just turned into a mission: get a tree before the sun set and be able to cut it down ourselves.  We were racing against the winter light sinking and filtering through the trees.  "Hey dad I saw I sign for Leo's trees back that way.  Maybe we could try there?"  We turned around and headed back the other direction.  Finally we came upon the driveway that was marked for Leo's trees.  Small problem, there was no one there even though we checked and doubled checked the time was before five like the sign had indicted.  Other wandering adventures looked just as lost (ahem I mean seeking a new route) as we were but they drifted off as I hopped out to find a person to help us.  Folks, we had a tree to get and I wasn't about to go home with one harvested and sitting in a lot.  Thankfully a pretty gal had just pulled up to the house and so I asked her if we could in fact chop down a tree.  "Let me get my brother to help you."  While waiting we wove our way through the maze of greenery sizing up branches, needles, girth, and stature.  Soon not one but two brothers marched out armed with a saw. That nice young man sawed…and sawed…and sawed.  His face became red and his brother offered to assist but he dared not give up with us three standing around.  "Need a hand?" my father offered.  Our noble tree didn't care to be cut down and moved to a warmer climate apparently.  Meanwhile my nose was keen to match Rudolph the red nosed reindeer's despite my protests and jumping up and down…I couldn't suppress my laughter at the situation any longer.  I  was dying laughing at the stubborn guys trying to fell a frozen tree (again I do feel bad for the poor chaps…) and me wiggling around to keep warm and probably ending up looking like I had to pee my pants.  Eloquent I know.  Eventually after a decent amount of time and a lot of laughter from all of us the two the very kind and wonderful gentlemen we able to chop down our choice piece of forest.  Packing it away we drove off with a Merry Christmas floating in the air and a feeling of mission accomplished.  I am happy to report that I am now sitting be side a twinkling tree all bedecked in ornaments and finery.  Not everyone celebrates Christmas but if you do what are your Christmas traditions?  Do you have a tree story to tell?  If so I'd enjoy hearing about it in the comments below.

Also for the next few weeks leading up to Christmas my attire, styled and shot by the amazing Christa Taylor, will be a bit dressier.  Hopefully you will be inspired for any parties you may attend and if you don't have any get fancy anyways!
UPDATE!!! 78,528.73  Who wants to help push it over to $79K?

Also I'm still looking for some willing people to be a part of the 2013 fundraising team.  Do you want to help sweet orphans in India?  Now is your chance!  Email me at misselaini @ gmail.com (remove spaces) if you're interested!  Or if you need an end of year tax write off this is a great option.