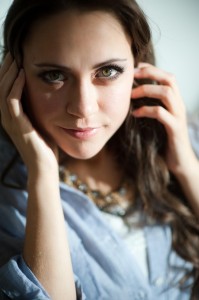 To put it simply, I'm Miss Elaini.
At the tender age of 24, I still have lots to learn but I'm thankful for the experiences and people who have shaped my life.  I live with my two best friends—also known as mom and dad—and I love how much they make me laugh.  We like to think of ourselves as the three musketeers… I have an older sister and brother who are both married and my sister made me a proud auntie to a handsome young red-headed nephew, a beautiful blue-eyed niece, and a happy little guy who's not such a little baby.  I adore them.  So that's my family.
All my life I've had various health issues but I still managed to graduate early from high school at 16.  Instead of getting a head start on college, I woke up one day and realized I was sick.  For the next six months, my health rapidly declined.  It was almost impossible to go out of my house and I spent much of my time in bed or in the big cushy chair in our living room.  For a while, I stayed curled up since when I moved my skin would crack and bleed.  During the next four years, I struggled not to go completely crazy from the pain and sleepless nights.  I have seen some improvement in the last two years and have even been able to take some classes at a community college.
Living for four years in survival mode doesn't help you dream at all, yet alone dream big.  I can't change the past but I can affect the future.  This year I am setting out to dream. Not just little dreams but big ones.  I believe my pain has a purpose, and Jesus brought me through it so I would have compassion on others.  My experience has given me a desire to help other children dream. Even though I am still weak, I don't want to waste the life I have been given.
Here I am setting out on an adventure to help others with whatever strength I have.  Regardless of your age, culture, and beliefs I hope you will join me on this journey.
Blessings
~miss elaini