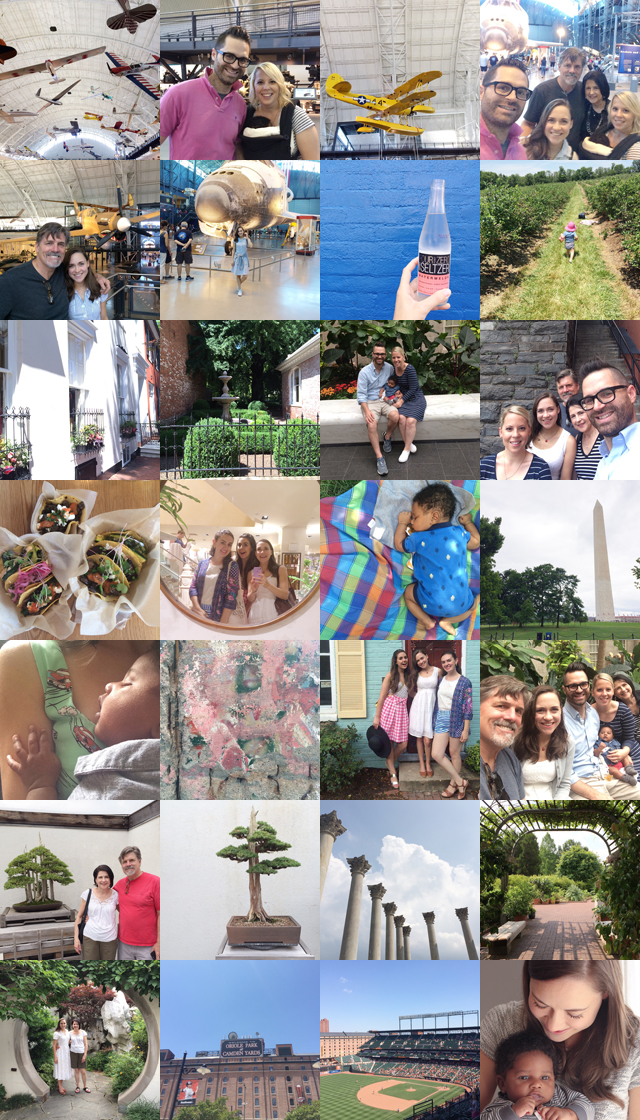 Hello friends! I recently got to go to Maryland to visit some of my family and I had the sweetest time! If you follow me on Instagram or Snapchat (@misselaini)  you've seen some snippets but I thought it would be fun to make a list here of my adventures so you can get a peek into my trip.  🙂
*Flying in the second row with my parents.  (Thanks peanut allergy for the only good thing you give me: pre-boarding.)
*A hazy pink and purple sky with puffy clouds glowing with lightning (it looked like Tinkerbell was trying to talk and it was so pretty).
*Getting to meet my new handsome little nephew! (Hands down the best part of my trip.)
*Going to the Air and Space Museum and getting to see the Discovery space shuttle (I've always wanted to be an astronaut so I was in heaven).  Also astronaut suits cost $22 million…each.
*Seeing planes like the ones my grandpa worked on in WWII as well as seeing the Enola Gay which was sobering (the plane that dropped the first atomic bomb on Japan).
*Walking down brick sidewalks with people I love in a darling little town.
*A cute little soda pop shop and a candy shop that had candy "through the ages"!
*MY FAMILY! Just being with them and hanging out and laughing and having good conversations or watching TV or laughing at a documentary or running errands.  That is what made it all so sweet.
*A bunch of incredibly nice people throwing a shower for my new nephew that was  thoughtful and blessed our family so much.
*Fireflies! These are the most magical little bugs and they make me ridiculously happy.
*Finally getting to meet in person a lovely friend and her daughter who I've been friends with for 5 years because of this blog.
*Picking blueberries with sweet friends!
*Late breakfast times and late dinners where we all lingered around the table.
*Going to the Newseum (a news museum) and seeing the Pulitzer Prize winning photos.  They made me cry.
*The old architecture everywhere you go.
*Seeing a cardinal.  (I have this thing about birds.)
*Watching my dad and brother build a deck table while my mom, sis-in-law, the baby, and I all sat in the shade and ate snacks lol.
*Feeding my nephew his bottle and having him fall asleep on me…bliss. (Plus the way his tiny hand grabs onto your shirt. <3 )
*Celebrating Father's Day with my dad and my brother (his first time!)
*My wonderful friends Rachel and Hannah driving *hours* to see me and spend some time having adventures (in the rain!) and eating at the yummiest taco place (Chaia for anyone that is wondering).
*Visiting the National Arboretum and seeing the bonsai exhibit (especially watching my dad enjoy this), the huge original columns from the Capitol, and taking pictures of my brother, sis-in-law, and nephew.
*Friends having us over for a tasty dinner and lots of laughs!
*The portrait museum and standing under a hotel awning while it poured buckets.
*Going to my first pro baseball game (in Baltimore) with my family on a perfect day.
*My suitcase making it home…not in one piece, the wheels were literally disintegrating and it's duct taped but I've had that one for 18 years and it's been to Greece, Dominican Republic, and alllll over the United States.  I'm kinda sad to see it go.)  :'(
There were sooooo many things that made this trip perfect (I could go on and on about it) but ultimately the best thing was being with some of my favorite people (my mom, dad, brother, sister-in-law, and nephew).  I'm so thankful for family!
Save