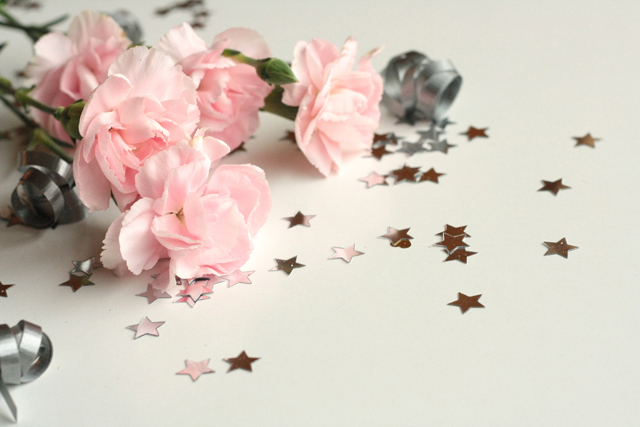 Last Friday I attended prom for the first time.  Waiting till my 20's was well worth it and I had the most amazing time at Night to Shine.  While I don't have any prior personal prom experience to compare it too I still think it was the best prom night ever.  This was no ordinary prom.  This was a prom to celebrate people of all ages that often get overlooked.  We celebrated people who often don't get a night to shine even if they should.
There were blue, silver, and white balloons and crepe paper streamers.  Silver stars were spun up above our heads and twinkle lights lent their magic.  A red carpet was rolled out and the guests were decked out in their finest.  Fluffy pink tulle spilled out over wheel chairs and glitter was abundant.  Some men wore jaunty hats.  There were spiffy suits and curled hair.
Have you ever been some place and known so fully that you were meant to be there?  That was Night to Shine for me.  There's a part of me that wants to hold these memories close and sit with them in awe but there's also a part of me that wants to share the complete and utter joy that was pulsing in that room.
There's something magical about a room filled with people who are mostly all strangers but are there for one common cause.  When was the last time you celebrated someone (and I don't mean birthdays!)?  When was the last time you clapped to cheer someone on?  These are the questions I've been asking myself and the conclusion is that I want to do it a whole lot more.
I'll never forget the moment I had on the dance floor with one of the Queens for the evening.  Her buddy for the night was pushing her back and forth on the dance floor in her wheel chair and I asked if I could dance with her.  She grabbed my hand and we swayed back and forth.  The music was loud and the dance floor was packed with people who were having the best time of their life.  My lovely dance partner and I couldn't really communicate but when I bent down to tell her that I loved to twirl I could see the laugh forming on her face.  When I asked her if I could twirl with her then her face said it all.  So there I was in my pink chiffon skirt twirling with a woman in her wheel chair (thanks to her buddy helping me) and it was indescribably perfect.  We didn't need to communicate with words because the joy spilling out all over was enough.
Two of the queens gave me the biggest and best hugs at the end of the night.  Even though my feet were sore from dancing in heels all night it was beyond worth it.  When all of the buddies for the night crowned their guests queens and kings of the prom I knew a little bit better what heaven was going to be like.  I walked away from my first prom knowing this a little more, that Jesus loves people and that when we show others that it makes any day or night a time to shine.  I'm already looking forward to the one next year!
{If you would like more information on Night to Shine check it out here at the Tim Tebow Foundation.  And if you just need some joy look through the #NightToShine on Instagram. (Here's the coverage of our event (there were 200 on the same night!) on the local news.)