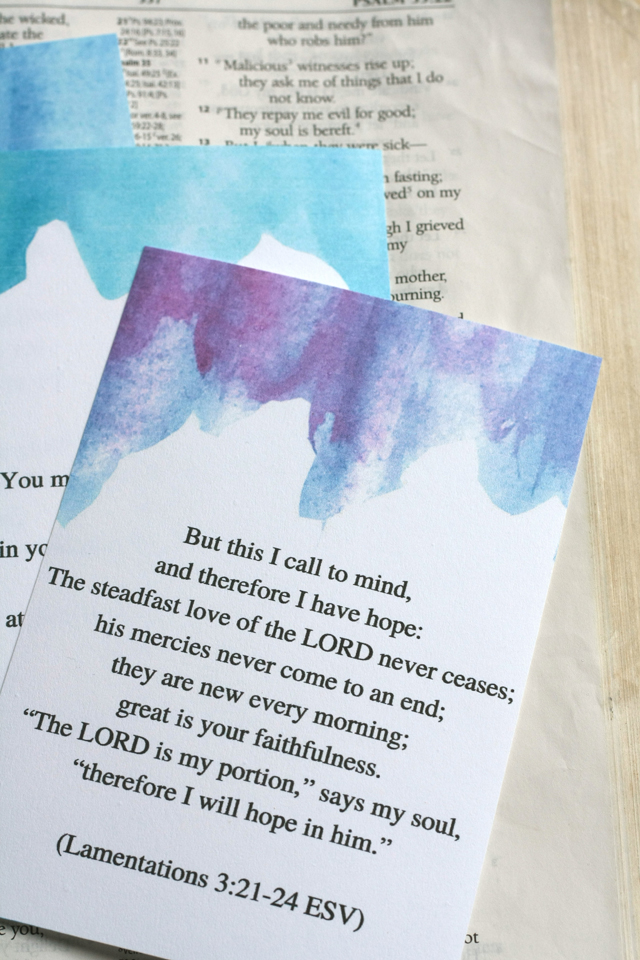 Last week I was reading through a book with one of the young ladies I get the pleasure of mentoring each week.  The chapter in our book ended up being really challenging for me personally because it had to do with scripture memory.  Bam!  Yep, that topic.  You either love it or cringe every time you hear about it.  Before you ignore this post I have a surprise for you at the end!
As a child my sweet mom had me learn lots of bible verses.  I'm so thankful she did! As I got older though (and went through being really sick for four years) my memory went downhill fast.  I stopped memorizing scripture because I had one big excuse:  "I can't remember things well."
Here's the thing though.  If I really believe that the bible is the Word of God and that it's living and active (I do) then shouldn't I care about storing it up in my heart?  While I read my bible faithfully it's still not the same as being able to recall portions of it to mind at any time.
What is so beautiful is when I'm talking with someone or going through something and a verse I learned years ago (but might not even remember learning…) will pop into my head and be perfect for that moment.  "For as the rain and the snow come down from heaven and do not return there but water the earth, making it bring forth and sprout,  giving seed to the sower and bread to the eater, so shall my word be that goes out from my mouth; it shall not return to me empty, but it shall accomplish that which I purpose, and shall succeed in the thing for which I sent it." (Isa. 55:10-11, emphasis added)
So friends, this isn't to make us feel bad about not memorizing (if you're like me and you haven't been) but more of an encouragement for you to join me in at least trying.  I read a while ago that if we were given a thousand dollars for every verse we learned in 30 days we would certainly be motivated!  Yet learning scripture and the very words of God for the sake of knowing His heart is infinitely more valuable.
Will you join me in trying?  I've made a few FREE gorgeous scripture memory cards for you to print out HERE!  Place them inside your bible, on your fridge, or on your mirror.  You could even slip them in a card to encourage a friend.  Let's do this! 🙂
Do you have a hard time memorizing things?  Is scripture memory a challenge for you?  What tips help you memorize?  Let me know in the comments below!